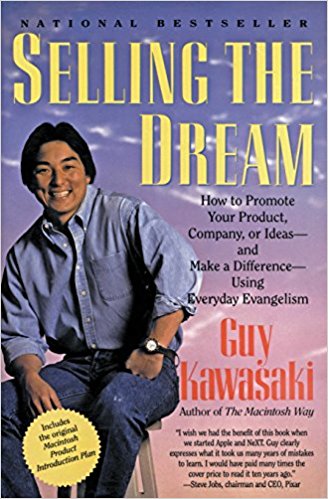 In 2003, Seth recommended "Selling the Dream" by Guy Kawasaki and said...
Guy has written several irrestible books, but this is a great place to start. It's all about starting the virus.
(Source: Link)
Looking for something else?
Other books recommended by Seth in this category include:
What others thought about "Selling the Dream"
From GoodReads.com
Average Rating:
4.0 rating based on 282 ratings (all editions)
ISBN-10:
0887306004
ISBN-13:
9780887306006
Goodreads:
237837
Author(s):Publisher:
Harper Business
Published:
8/23/1992
Guy Kawasaki's phenomenal success at Apple Computer and as a start-up entrepreneur was the result of an innovative approach to sales, marketing, and management called
evangelism.
Evangelism means convincing people to believe in your product or ideas as much as you do, by using fervor, zeal, guts, and cunning to mobilize your customers and staff into becoming as passionate about a cause as you are.
Selling the Dream
is a handbook and workbook for putting evangelism into action. Kawasaki charts a complete blueprint for the beginning evangelist that covers such topics as how to define a cause (whether it is a business, like Windham Hill Records or the Body Shop, or a public interest concern, like the National Audubon Society or Mothers Against Drunk Driving), how to identify good and bad enemies, how to deliver an effective presentation, and how to find, train, and recruit new evangelists. One of the highlights of the book is a short course in developing an evangelistic business plan, illustrated by the complete, original Macintosh Product Introduction Plan.
Selling the Dream
will teach you how to become a raging, inexorable thunder lizard of an evangelist -- a leader whose words will never fall on deaf ears again.
From Amazon
410 Gone
ScrapeAZon could not connect to Amazon or was otherwise unable to retrieve data from Amazon. Please check your Internet connectivity, your ScrapeAZon settings, your country code, and your shortcode configuration.
Search Again