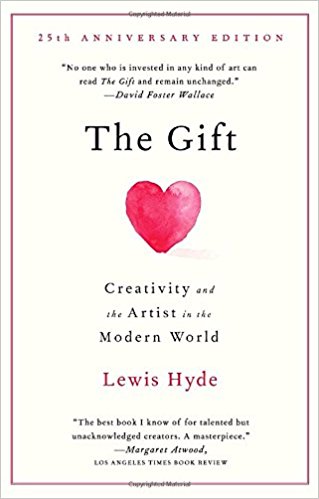 In 2011, Seth recommended "The Gift" by Lewis Hyde and said...
Deep, astonishingly well researched and mindblowing. An exploration of one of the most basic (and least understood) human traits--our ability to create and share gifts.
(Source: Link)
Seth also recommended the book again in 2012 and said:
Long, rich, and intricate, this book by poet Lewis Hyde takes us on a tour of gifts, art, poetry, commerce, and the history of the world. His understanding of how seemingly small decisions about things like usury changed our world forever is profound.
Source: Link
What others thought about "The Gift"
From GoodReads.com
Average Rating:
4.0 rating based on 2,702 ratings (all editions)
ISBN-10:
0307279502
ISBN-13:
9780307279507
Goodreads:
433775
Author(s):Publisher:
Vintage
Published:
12/4/2007
"A manifesto of sorts for anyone who makes art [and] cares for it." —Zadie Smith
"The best book I know of for talented but unacknowledged creators. . . . A masterpiece." —Margaret Atwood
"No one who is invested in any kind of art . . . can read The Gift and remain unchanged." —David Foster Wallace
By now a modern classic, The Gift is a brilliantly orchestrated defense of the value of creativity and of its importance in a culture increasingly governed by money and overrun with commodities. This book is even more necessary today than when it first appeared.
An illuminating and transformative book, and completely original in its view of the world, The Gift is cherished by artists, writers, musicians, and thinkers. It is in itself a gift to all who discover the classic wisdom found in its pages.
From Amazon
410 Gone
ScrapeAZon could not connect to Amazon or was otherwise unable to retrieve data from Amazon. Please check your Internet connectivity, your ScrapeAZon settings, your country code, and your shortcode configuration.
Search Again