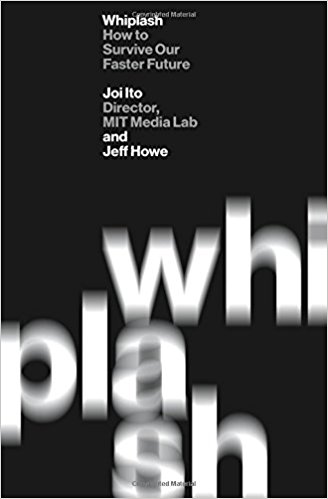 In 2016, Seth recommended "Whiplash" by Joi Ito and said...
Joi's the head of MIT's Media Lab and an extraordinary thinker. Jeff brings the ideas and the lessons of the Lab to life. This is a big think, well worth a deep dive.
(Source: Link)
Seth also recommended the book again in 2017 and said:
What would happen if the next all hands meeting got cancelled and instead the organization had an all hands-on read instead?

Here are more than twenty books you might want to read at work today. You and ten co-workers reading together... it might change everything
Source: Link
What others thought about "Whiplash"
From GoodReads.com
Average Rating:
3.9 rating based on 1,302 ratings (all editions)
ISBN-10:
1455544590
ISBN-13:
9781455544592
Goodreads:
28450775
Author(s):Publisher:
Grand Central Publishing
Published:
12/6/2016
This "brilliant and provocative" (Walter Isaacson) guide shares nine principles to adapt and survive the technological changes shaping our future from the director of the MIT Media Lab and a veteran Wired journalist.
The world is more complex and volatile today than at any other time in our history. The tools of our modern existence are getting faster, cheaper, and smaller at an exponential rate, transforming every aspect of society, from business to culture and from the public sphere to our most private moments. The people who succeed will be the ones who learn to think differently.
In
Whiplash
, Joi Ito and Jeff Howe distill that logic into nine organizing principles for navigating and surviving this tumultuous period:
Emergence over Authority
Pull over Push
Compasses over Maps
Risk over Safety
Disobedience over Compliance
Practice over Theory
Diversity over Ability
Resilience over Strength
Systems over Objects
Filled with incredible case studies and cutting-edge research and philosophies from the MIT Media Lab and beyond,
Whiplash
will help you adapt and succeed in this unpredictable world.
From Amazon
410 Gone
ScrapeAZon could not connect to Amazon or was otherwise unable to retrieve data from Amazon. Please check your Internet connectivity, your ScrapeAZon settings, your country code, and your shortcode configuration.
Search Again