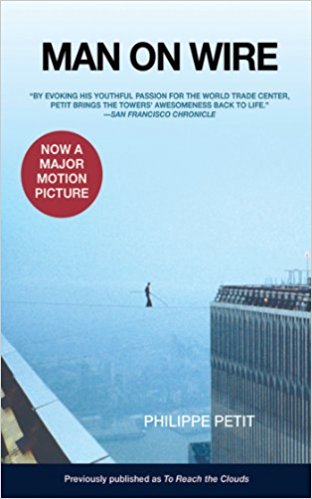 In 2012, Seth recommended "Man on Wire" by Philippe Petit and said...
Petit is an artist, someone living an adventure through his actions. His life is a gift to us, and this book, as much as the movie, will encourage and provoke you.
(Source: Link)
Looking for something else?
Other books recommended by Seth in this category include:
What others thought about "Man on Wire"
From GoodReads.com
Average Rating:
4.1 rating based on 885 ratings (all editions)
ISBN-10:
160239332X
ISBN-13:
9781602393325
Goodreads:
4633633
Author(s):Publisher:
Skyhorse Publishing
Published:
11/17/2008
More than a quarter-century before September 11, 2001, the World Trade Center was immortalized by an act of unprecedented daring and beauty. In August 1974, a young Frenchman named Philippe Petit boldly and illegally fixed a rope between the tops of the still-young Twin Towers, a quarter mile off the ground. At daybreak, thousands of spectators gathered to watch in awe and adulation as he traversed the rope a full eight times in the course of an hour. In Man on Wire, Petit recounts the six years he spent preparing for this achievement. It is a fitting tribute to those lost-but-not-forgotten symbols of human aspiration the Twin Towers.
From Amazon
410 Gone
ScrapeAZon could not connect to Amazon or was otherwise unable to retrieve data from Amazon. Please check your Internet connectivity, your ScrapeAZon settings, your country code, and your shortcode configuration.
Search Again