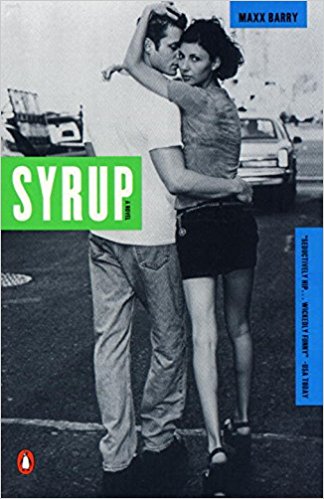 In 2009, Seth recommended "Syrup" by Max Barry and said...
Funny, thrilling, fast moving and about brand marketing and office politics. What more could you hope for in a novel?
(Source: Link)
Seth also recommended the book again in 2010 and said:
This is book is funny and fast and insightful and addictive. And Barry has a bunch of others once you get hooked.
Source: Link
What others thought about "Syrup"
From GoodReads.com
Average Rating:
3.9 rating based on 5,488 ratings (all editions)
ISBN-10:
0140291873
ISBN-13:
9780140291872
Goodreads:
41315
Author(s):Publisher:
New York : Penguin Books
Published:
7/1/2000
When Scat comes up with the idea for the hottest new soda ever, he's sure he'll retire the next rich, savvy marketing success story. But in the treacherous waters of corporate America there are no sure things--and suddenly Scat has to save not only his idea but his yet-to-be-realized career. With the help of the scarily beautiful and brainy 6, he sets out on a mission to reclaim the fame and fortune that, time and again, eludes him. This brilliantly scathing debut is a hilarious send-up of celebrity, sexual politics, corporate America, and the fleeting status that comes with getting to the table first--before the other guy has you for lunch.
From Amazon
410 Gone
ScrapeAZon could not connect to Amazon or was otherwise unable to retrieve data from Amazon. Please check your Internet connectivity, your ScrapeAZon settings, your country code, and your shortcode configuration.
Search Again