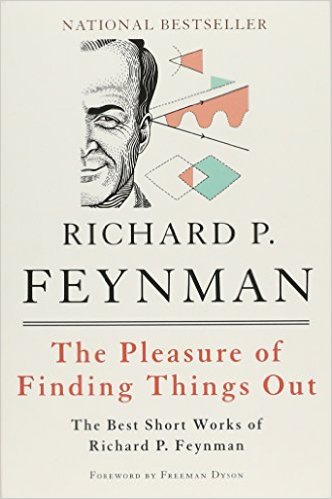 In 2017, Seth recommended "The Pleasure of Finding Things Out" by Richard P. Feynman and said...
The fuel you choose, though, determines how you will spend your days. You will spend far more time marinating in your fuel than you will actually doing breakthrough work. Richard Feynman was famously motivated by the joy of figuring things out.
(Source: Link)
Looking for something else?
Other books recommended by Seth in this category include:
What others thought about "The Pleasure of Finding Things Out"
From GoodReads.com
Average Rating:
4.2 rating based on 10,218 ratings (all editions)
ISBN-10:
0465023959
ISBN-13:
9780465023950
Goodreads:
46141212
Author(s):Publisher:
Basic Books
Published:
4/6/2005
El placer de descubrir permite acceder al mundo personal, social y cientíco de Richard Feynman, por ejemplo, a sus aventuras mientras participó en el Proyecto Manhattan, cuando se divertía —y escandalizaba— descifrando las claves de cajas fuertes, o a cómo se inició, siendo un niño, en el estudio de la naturaleza (en el «placer de descubrir»), que terminaría ocupando toda su vida. Podemos, asimismo, conocer sus pioneras ideas sobre las computadoras del futuro, su opinión acerca del valor de la ciencia o la explicación, tan sencilla como profunda, que dio al desastre de la lanzadera espacial Challenger. Es este, sin duda, un libro tan fascinante como su autor.
From Amazon
410 Gone
ScrapeAZon could not connect to Amazon or was otherwise unable to retrieve data from Amazon. Please check your Internet connectivity, your ScrapeAZon settings, your country code, and your shortcode configuration.
Search Again