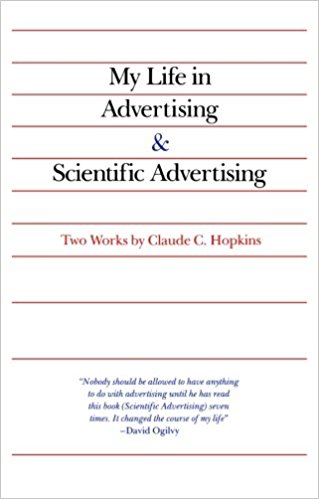 In 2003, Seth recommended "My Life in Advertising and Scientific Advertising" by Claude C. Hopkins and said...
Very old, very good. If you're doing any advertising, you have a professional obligation to read this.
(Source: Link)
Looking for something else?
Other books recommended by Seth in this category include:
What others thought about "My Life in Advertising and Scientific Advertising"
From GoodReads.com
Average Rating:
4.3 rating based on 985 ratings (all editions)
ISBN-10:
0844231010
ISBN-13:
9780844231013
Goodreads:
404747
Author(s):Publisher:
McGraw-Hill Companies
Published:
2/1/1966
Gain a lifetime of experience from the inventor of test marketing and coupon sampling -- Claude C. Hopkins. Here, you'll get two landmark works in one, and discover his fixed principles and basic fundamentals that still prevail today.
From Amazon
410 Gone
ScrapeAZon could not connect to Amazon or was otherwise unable to retrieve data from Amazon. Please check your Internet connectivity, your ScrapeAZon settings, your country code, and your shortcode configuration.
Search Again